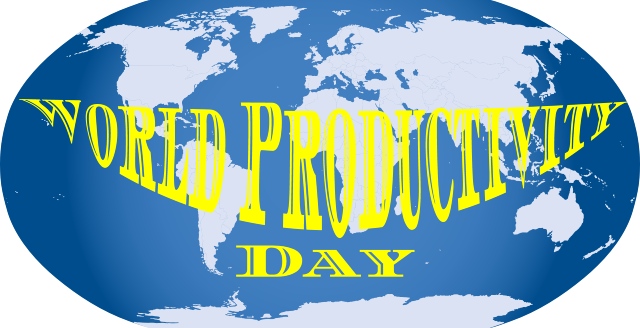 In This Episode…
Yesterday (20 June) was World Productivity Day. I only found out by accident this morning when I received an e mail from a productivity software company using it as a way to remind me of their service.
It's ironic that I am late celebrating this day given that yesterday's episode was all about procrastination!
So in an attempt to address my ignorance about World Productivity Day, I consulted Professor Google to find out more.
In this episode I share what I find and add my own contribution to this little known celebration.
Episode Show Notes
00:18 – How I discovered (by accident) that it was World Productivity Day.
01:03 – There's no World Procrastination Day but there is a Fight Procrastination Day (6 Sep) and a National Procrastination Week where ironically you are encouraged to put off important things!
02:15 – I found a website that catalogues all of the international and national celebratory days called www.HappyDays-365.com that explained World Productivity Day.
World Productivity Day is one in which people from all over the world celebrate their productivity in their special ways…

…it is one of the least popular celebratory days.

www.HappyDays-365.com
02:57 – There are three purposes for World Productivity Day:
An excuse for the suppliers of productivity products and services to contact their customers and prospects to remind them about what they can do for them.
For companies to either stimulate a boost to low levels of productivity or reward and recognise high levels of productivity.
For any other organisation to find some form of tenuous link to promote their own products and services.
05:30 – Other days celebrated today:
National Vanilla Milkshake Day
National American Eagle Day
National Ice Cream Soda Day
National Dump The Pump Day
06:21 – Probably the most important day recognised on the 20th June is World Refugee Day. I think the explosion in the number of trivial days recognised has put important days like this too far back into the shadows.
07:24 – Many of the other articles that came up in the Google Search for "world productivity day" were of the "Top Tips For…" clickbait variety.
07:33 – Forbes Magazine did an article imaginatively called "7 Things You Need To Know About World Productivity Day"
08:32 – The Forbes article referenced a survey done by LucidChart, a visual based productivity tool. They interviewed 1000 US based office workers on their productivity habits.
08:42 – The LucidChart survey identified three groups of people – Go Getters Doers and Coasters. I think they missed a fourth group – Slackers.
10:51 – Life Hacker Australia had a good article called 5 Tips For World Productivity Day which contained some sensible, practical and effective tips to increase your productivity.
11:19 – I found a real meaty article from the Business Chief Website that offered Tech Tips For Productivity Leaders. This was quite intense and one step removed from personal productivity.
12:19 – Whilst the majority of the tips and techniques I encountered on this quick canter through what sites were recommending as part of World Productivity Day are effective, I feel a framework on their implementation is also needed.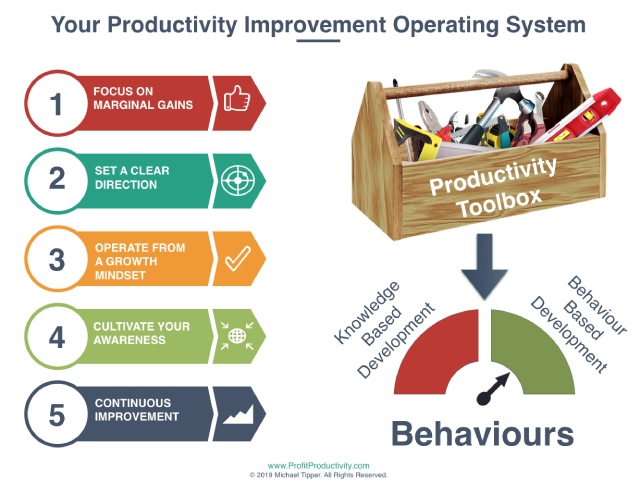 12:40 – Focus on marginal gains. Make your changes something small and manageable and then gradually accumulate lots of them over a longer period of time.
13:51 – Set very clear goals on what you are trying to achieve so you know exactly what your direction is.
14:42 – Operate from a Growth Mindset so you embrace challenges, overcome obstacles, learn from the feedback you get and become inspired by the successes of others.
15:25 – Cultivate your awareness to be able to gather the feedback from your efforts and understand what it means.
16:05 – Have a continuous improvement approach to how you develop your productivity so you are never satisfied and always look to do better.