Power of Focus Follow Up
Additional Resources, Tools and Plan of Action
Supporting Information And Recommended Reading List
Your group chair should have sent you this document by now.  It contains:
Summary & explanation of the P.I.O.S

Worksheet for setting a clear direction.

A list of productivity behaviours.

A summary of the key takeaways.

A recommended reading list.

How to get in touch if you'd like any more information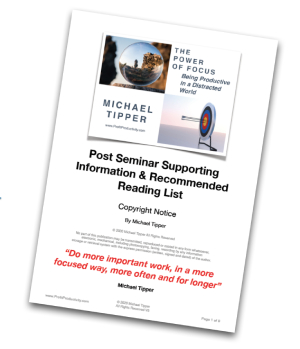 If you have not received this yet, then contact me at himself@michaeltipper.com and I'll send you a copy.